NATIONAL WILDLIFE-PRICE LIST-FEDERAL DUCK STAMPS-FEBRUARY 2018
NATIONAL WILDLIFE-PRICE LIST-FEDERAL DUCK STAMPS-FEBRUARY 2018

 
 
SCOTT RW#
ISSUE YEAR
MINT OGNH
MINT OGLH
UNSIGNED No Gum
USED PREMIUM
USED AVERAGE
 
SCOTT RW#
ISSUE YEAR
MINT OGNH
MINT
S.A.
UNSIGNED No Gum
USED PREMIUM
USED AVERAGE
 
1
1934-35
425
250
58
60
40
 
43
1976
5
 
4
3
2
 
2
1935
320
195
80
60
40
 
44
1977
5
 
4
3
2
 
3
1936
225
125
45
35
25
 
45
1978
5
 
4
3
2
 
4
1937
195
60
35
28
12
 
46
1979
7
 
5
4
3
 
5
1938
250
75
25
23
10
 
47
1980
7
 
5
4
3
 
6
1939
110
50
25
22
10
 
48
1981
7
 
5
4
3
 
7
1940
110
50
25
22
10
 
49
1982
7
 
5
4
3
 
8
1941
100
50
25
22
10
 
50
1983
7
 
5
4
3
 
9
1942
100
50
25
22
10
 
51
1984
7
 
5
4
3
 
10
1943
55
26
20
18
10
 
52
1985
7
 
5
4
3
 
11
1944
45
30
20
20
9
 
53
1986
7
 
5
4
3
 
12
1945
45
30
18
18
8
 
54
1987
10
 
8
7
6
 
13
1946
22
15
13
7
3
 
55
1988
10
 
8
7
6
 
14
1947
22
15
13
7
3
 
56
1989
13
 
10
8
 
 
15
1948
24
15
15
7
3
 
57
1990
13
 
10
8
 
 
16
1949
30
16
15
7
3
 
58
1991
18
 
15
13
 
 
17
1950
43
23
19
7
3
 
59
1992
18
 
15
13
 
 
18
1951
42
23
19
5
3
 
60
1993
18
 
15
13
 
 
19
1952
37
22
14
5
3
 
61
1994
18
 
15
13
 
 
20
1953
45
22
17
5
3
 
62
1995
18
 
15
13
 
 
21
1954
43
22
15
5
3
 
63
1996
18
 
15
13
 
 
22
1955
42
22
17
5
3
 
64
1997
18
 
15
13
 
 
23
1956
37
22
17
5
3
 
65
1998
26
24
22
20
 
 
24
1957
37
22
17
5
3
 
66
1999
26
24
22
20
 
 
25
1958
35
21
15
5
3
 
67
2000
20
24
18
15
 
 
26
1959
58
40
30
5
3
 
68
2001
20
24
18
15
 
 
27
1960
44
28
24
5
3
 
69
2002
20
24
18
15
 
 
28
1961
45
29
24
5
3
 
70
2003
25
24
18
 
 
 
29
1962
55
40
30
5
3
 
71
2004
 
24
18
 
 
 
30
1963
55
35
30
5
3
 
72
2005
 
24
18
 
 
 
31
1964
44
33
28
5
3
 
73
2006
 
24
18
 
 
 
32
1965
44
35
30
5
3
 
74
2007
 
24
20
 
 
 
33
1966
45
30
30
5
3
 
75
2008
 
24
20
 
 
 
34
1967
45
45
35
7
4
 
76
2009
 
24
20
 
 
 
35
1968
25
21
17
6
3
 
77
2010
26
25
21
 
 
 
36
1969
25
21
15
8
3
 
78
2011
26
25
21
 
 
 
37
1970
20
19
14
8
3
 
79
2012
26
25
21
 
 
 
38
1971
15
14
10
8
3
 
80
2013
26
25
21
 
 
 
39
1972
10
8
7
8
3
 
81
2014
30
30
25
 
 
 
40
1973
7
7
5
8
2
 
82
2015
35
35
30
 
 
 
41
1974
7
 
6
5
3
 
83
2016
45
35
40
 
 
 
42
1975
6
 
6
5
3
 
84
2017
40
35
38
 
 
Federal Duck Stamp Information
Our comprehensive catalog of Federal Duck Stamps and Prints has been compiled to provide collectors the most complete information ever offered. A large variety of material is offered herein, such as mint and used stamps, unsigned stamps without gum, plate blocks, artist signed stamps, errors, prints and collateral material. Please note that we may not have all material in stock, particularly the rare items. However, we will be pleased to accept your want list for these items and advise you of price and availability when acquired. Explanations provided below are to assist you in understanding some of the philatelic terms used here.
Note: RW1-20 were wet printed and due to the jumbo size of the stamp, natural gum bends or skips may be present on some stamps. They are not considered a fault, unless excessive.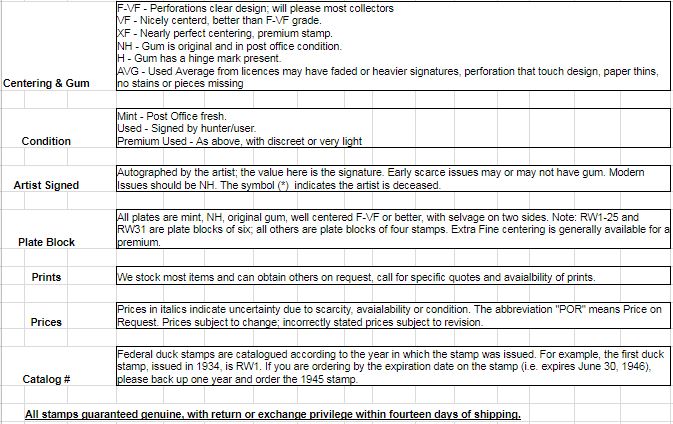 FREE Shipping on all orders in stock. Orders shipped within 3-5 days. Print form to prepare your order.
All stamps are Fine to Very Fine Centered with NO major Faults – (No perfs cut design,tears or stains).
Inquire for quotes on better centered (VF-XF) for all categories or Hinged Stamps with Original Gum, Artist Signed or plate singles
Most ALL artist signed stamps available on request from RW15 to date
Deduct 15% OFF for Natural Straight Edges on RW 1-12
Full color Album pages at $19.99 with FREE Shipping drop- shipped direct from the publisher.
Combined stamp orders over $150 will receive a 10% discount
You can print the order sheet and circle your stamp(s) needed and mail to: 2221 Flora Ave, Fort Myers, FL 33907 or scan and attach to an email and send to davidhboshart@gmail.com and type STAMP ORDER in the subject line. Or send an email but please keep in order from 1934 forward with the RW# include condition and price for each from the four columns – include Added Total – If order is over $150 Then Take a Ten Percent (10%) discount. Remember to include your preferred method of payment. If mailing this order please include a check.